Welcome back to the Diamonds Hatton Garden blog where we bring you the very latest from our Hatton Garden jewellers. For over 40 years, our team have assisted generations of clients to find their perfect diamond engagement ring. Often, and excitedly, changes and tastes change and evolve over time. Certain shapes become more popular, less popular and come back in fashion. In today's blog we explore the gorgeous and highly treasured fancy coloured yellow diamond and its increasing use as the centrestone for diamond engagement rings, how to choose a yellow diamond engagement ring and offer a selection of popular styles.
The First Step – Choosing the colour of your yellow diamond
A yellow diamond engagement ring is a fabulous choice to celebrate your commitment and new life. However, choosing the perfect diamond engagement ring requires understanding yellow diamonds, mountings and how the choice of metal can affect the appearance of the diamond. 
As with all diamonds, and we covered this in our blog what are the 4cs of diamonds, there are various factors that contribute to the price of a diamond. Whilst there are similarities in the pricing of fancy coloured yellow diamonds e.g. carat weight, cut, clarity and colour, all  fancy coloured diamonds also have their own scale across all of the colours, meaning that the same scale is used to grade a pink diamond as it is a yellow diamond. 
For example, the GIA Coloured Diamond Grading System assigns yellow diamonds one of six colour grades: Fancy Light, Fancy, Fancy Dark, Fancy Deep, Fancy Intense, and Fancy Vivid. Within this scale, coloured diamonds that appear towards the fancy intense and Fancy Vivid side of the scale are, generally, rarer and thus more expensive,
Fancy coloured yellow diamonds are assessed to be a coloured diamond and graded as "Fancy"  when they do not appear on the standard the D-to-Z range that is used to grade colourless diamonds. This grading is ascertained when the yellow diamond being graded has more colour than a Z graded colourless diamond. 
Certain mounts make the yellow diamond look darker
No doubt that if you are choosing a yellow diamond for your engagement ring you have probably looked at a number of loose yellow diamonds. However, it is important to understand that when mounted the colour can appear darker depending on the mount chosen. What's more the metal used affects the appearance of a yellow diamond engagement ring as diamonds are highly reflective and reflect their surroundings or setting. Elements like the colour of the metal and the prongs have an impact on the diamond's appearance.  Below you can see how the mount of the ring helps to make the diamond look lighter. 
The metal of the mount affects the appearance of the diamond 
When choosing the perfect mount and metal for your yellow diamond ring, we normally use the categories below to help our clients: 
A white metal (this includes white gold and platinum)

Rose gold (typically a blend of gold and copper)

Yellow gold
Both Rose gold and White gold help to create a contrast between the mount and the diamond which highlights its rich hue. In addition, White gold creates a streamlined, sophisticated look whereas a rose gold mounting will create a warmer contrast.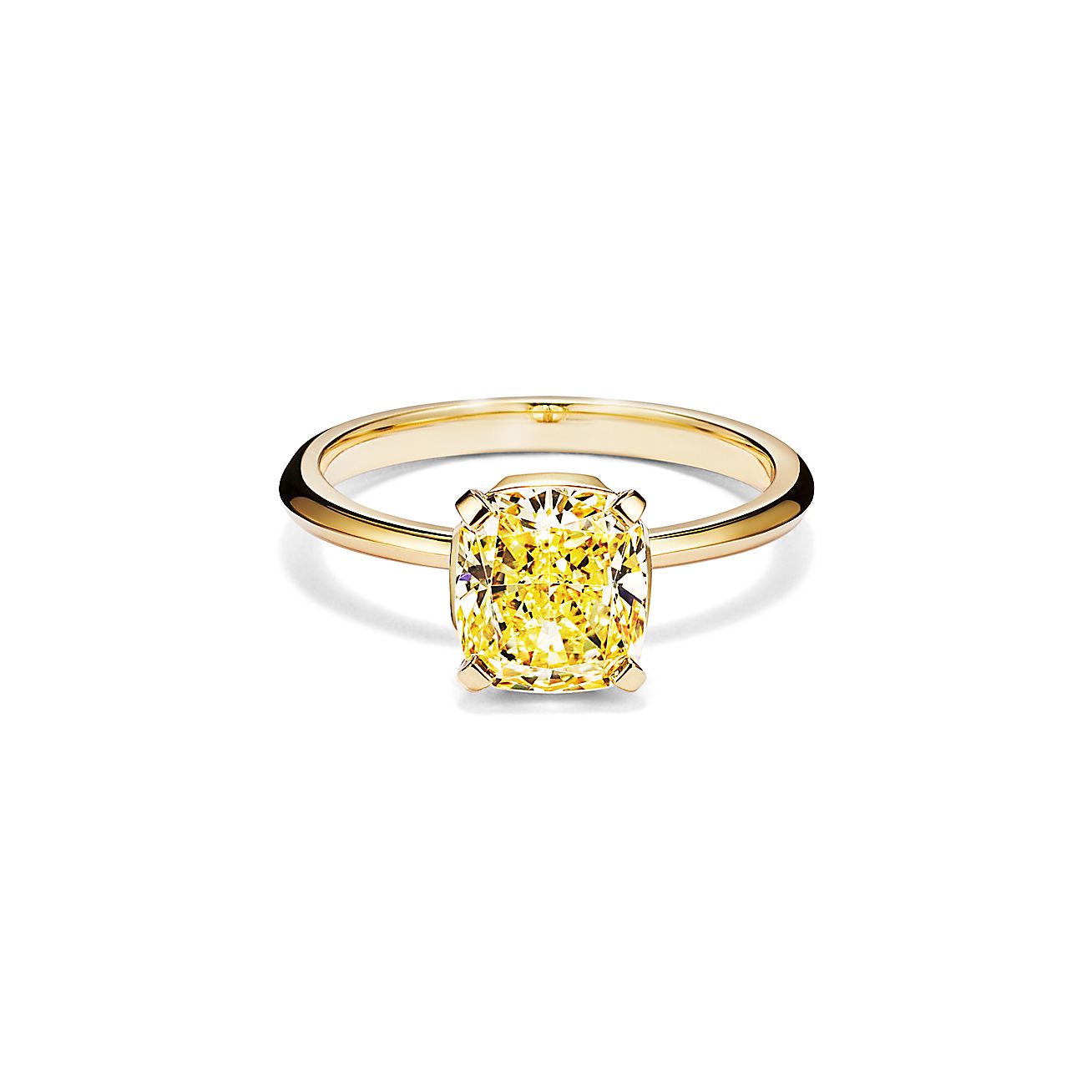 If you wish to compliment the yellow diamond, yellow gold makes for the perfect choice. The deep, rich colour of the metal harmonises with the diamond creating a retro and timeless look. 
Why are yellow diamond engagement rings rare?
A yellow diamond engagement ring is rare because yellow diamonds are rare
When you wear a yellow diamond engagement ring, you'll have something unusual on your finger. In the early 2000s, for example, yellow diamonds represented only 2.4% of all diamonds submitted to GIA for various grading reports over the course of a single year. If unearthing a diamond is noteworthy, then discovering a yellow diamond is like finding a golden needle in a haystack.
At Diamonds hatton Garden our expert team of jewellers can assist you to find the perfect yellow diamond engagement ring. We hold a large inventory of beautiful yellow diamonds in a range of saturations that make for the perfect engagement ring. Speak to our team directly  to discuss your requirements and let our experts help you with this magical choice of diamond for your magical occasion.  Book your personal consultation today via info@diamondshg.co.uk or on +44 7951 060238.