Welcome back to the Diamonds Hatton Garden blog where we bring you the very latest from our Hatton Garden jewellers. For over 40 years, our team has assisted generations of clients to find their perfect diamond engagement ring. Often, and excitedly, changes and tastes change and evolve over time. Certain shapes become more popular, less popular and come back in fashion. This week are looking at pink diamonds and their use in engagement rings. Playful and stylish the pink diamond engagement ring is a timeless classic, a timeless symbol of love and certainly an exciting choice of centre stone for an engagement ring.
Whilst pink diamond engagement rings have been a popular choice throughout the years, they still remain fairly uncommon. Choosing a pink diamond as your gem of choice for an engagement ring will certainly set you apart. Incredibly rare and prized, natural pink diamonds can be found in pockets throughout South America and the most cherished are from the Argyll mine in Australia which have gained a reputation for their rich saturation. 
In pop culture, pink diamond engagement rings have been a favourite of celebrities. Back in 2002 Ben Affleck caused a stir and put pink diamonds back in the limelight when he proposed to singer and actress Jennifer 'Jlo' Lopez with a 6- carat radiant cut pink diamond ring, sparking a global trend for pink coloured diamonds. Pink diamonds are not just the reserve of Hollywood royalty. It is rumoured that Queen Elizabeth II's  favourite piece in her entire collection is said to be a pink diamond bracelet given as a wedding present to her on a tour of Tanzania. Pairing a pink diamond engagement ring works well with pink diamond earrings and bracelets to create a stunning, show-stopping jewellery set. 
With all things being cyclical 20 years later pink diamond engagement rings are back once again and at Diamonds Hatton Garden we have a beautiful selection of loose pink diamonds to make your engagement ring extra special adding a touch of femininity and glamour. 
Before choosing the perfect pink diamond, it is important to understand both the various  shades and colours of the stones and the settings of the ring.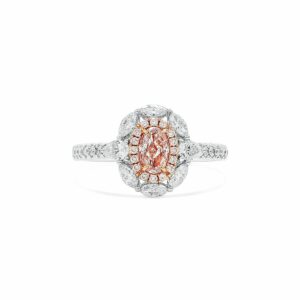 Like all loose coloured diamonds  the  hue and saturation of the stone  is of the utmost importance. Pink diamonds can occur in a beautiful range of tones  from brown-pink, purple-pink to a beautiful intense fancy vivid, the ideal pink diamond exhibits a pure intense pink colour although purple-pink diamonds are also highly regarded for their beauty and quality. 
Pink diamonds  occur in eight intensities, faint pink, very light pink, light pink, fancy light pink, fancy pink, fancy intense pink, fancy vivid pink, fancy deep/dark pink. Like yellow and champagne colour diamonds, the brighter and more intense the colour of the diamond the rarer they are and, with all things diamonds, the rarity influences the price per carat.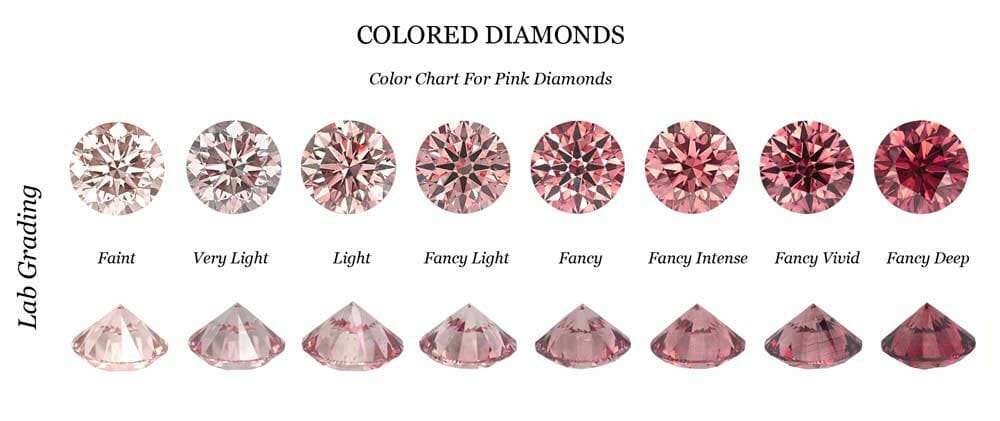 The colour of pink diamonds can be enhanced through heat treatment The aim of treating natural diamonds is to artificially improve their quality by changing one or several of their characteristics, thereby increasing their value. Such treatments generally target colour and purity. Natural pink diamonds are pink diamonds whose colour is natural and untreated. Generally speaking, natural coloured pink diamonds are more expensive than those that have been treated.
Diamonds Hatton Garden also pairs your chosen stone with elegant settings and mounts  in a range of classical and contemporary styles that are handcrafted just for you.  The mount is especially important in how the stone is displayed and we are passionate about creating the perfect mount for your perfect stone. We offer both bespoke and ready to wear settings for you to choose from in a range of fine metals to complement and enhance the pink diamond centre stone. We offer bands and settings in a variety of materials including white gold and platinum, for a clean, contemporary finish, yellow gold for a classic feel  and rose gold to further enrich the diamond's pinkish hue.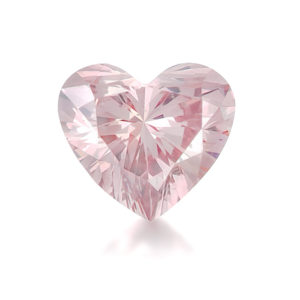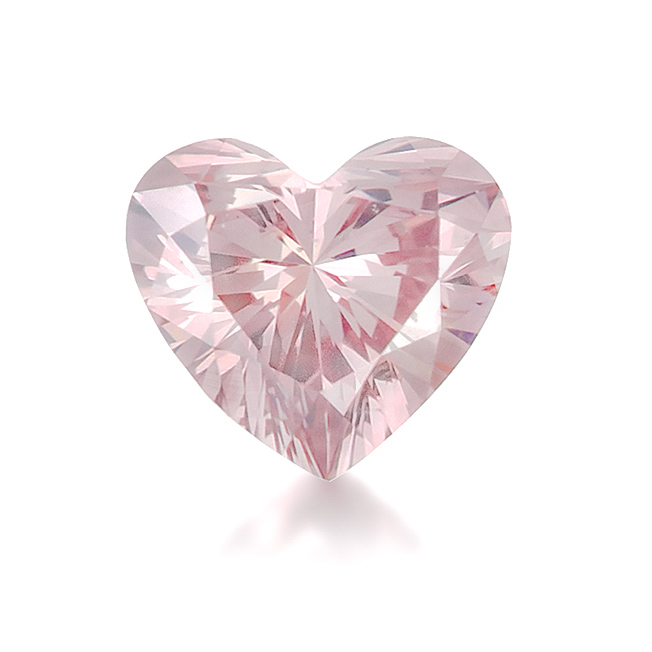 Although contemporary fashion is bringing  pink diamonds back to the forefront the pink diamond is of timeless elegance. Its use in diamond engagement rings symbolises love, sophistication and femininity making these stones a bold and distinguished choice. 
For more information and to arrange your personal consultation, contact our team via info@diamondshg.co.uk or on +44 7951 060238